Artists - Christopher Bolte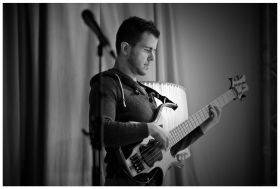 Born in Germany in 1992, Christopher Bolte started making music at the age of 4 and received personal lessons from the age of 5. He first started playing keyboard followed by the drums and he finally picked up the electric bass at the age of 14. With the ever present will to turn music into his profession he invested countless hours into practicing and playing with numerous bands on well over 200 concerts before finally entering the Osnabrück Music College at the age of 19 to finally study Jazz Bass. His teachers include Arnd Geise, Achim Seifert, Patrick Scales, Christian McBride, Sebastian Gramss, Sebastian Hoffmann and more.
Whilst studying he met all kinds of aspiring musicians with whom he played in dozens of projects and bands, the most notable being his current main project "Natalia Mateo" - a critically acclaimed 6 piece band centered around the polish singer Natalia Mateo creating a blend of Jazz, Pop and Polish Folklore.
Currently he is taking a break from his studies to manage his tight touring and rehearsing schedule with Natalia Mateo, work as a studio musician and to work on the upcoming records by his various projects. Besides that he is also planning to release his very own solo album by the end of this year.
Other artists he played with include: Or Lubianiker, Hadrien Feraud, Marc Guillermont, Swaeli Mbappé, Frank Wingold, Andreas Wahl, Joachim Schönecker, Sebastian Hoffmann, Halcyon Days, Bliss and many many more… and by now, despite his age of only 21, his touring history counts close to 400 shows and he already conducted numerous workshops for aspiring young musicians.
Besides playing live he is also working as a producer in his own studio "Timbre Recording Studios" (founded in 2011)as well as a composer and as a studio bassist in all kinds of musical genres.

Christopher uses: Zebu Silver Line delay/reverb.
"I'm really thrilled by this pedal. It offers all I want to give my sound some more "space" in a small and very simple and convenient package. Both the reverb and the delay (especially in stereo) sound fantastic and super clean and they mix beautifully with my sound on all my basses. The idea of combining both Reverb and Delay into one pedal is simply great and the way you guys executed this idea is simply awesome! I can't imagine touring without my Zebu anymore!"