Artists - Damien Rivoal (ETHS)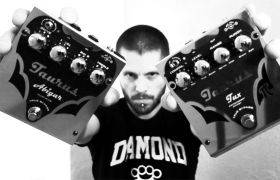 Damien Rivoal is a French musician, best known as the bassist for the Metal band ETHS (Season of Mist). Recruited by the founding members for his strong pick-style bass playing, he composed and recorded the bass parts on their critically acclaimed last album called "III" (2012).
Since he touched his first guitar in 1996 as a self made musician, he never stopped playing. Before joining the band in 2010, Damien took part to several underground projects : in 1998 he created his first band called BYPASS as a guitarist and composer, playing post-hardcore songs. Then in 2003, he played guitar on tour with a nu-metal band called SIKH. In 2005 he joined the punk rock band called 22, playing for the first time with Yom (Eths' drummer). Later in 2006 he joined the electro rock band DJIEL as a live guitarist.
Playing along with so many people gave Damien the determination to go on as a professional musician. After finishing his musicology studies, he spent a few years working as a sound engineer in his hometown at Marseille's Opera. Then, on a proposition from Yom, he accepted to give a try at joining ETHS as a bassist and passed the test hands down, switching from guitar to bass.
As of 2012, Damien has been on tour with ETHS until winter 2013. The band is already working on a forthcoming album scheduled for release in 2014, introducing their new singer, Rachel Aspe.
www.eths.net
http://www.facebook.com/EthsPage
Damien uses Silver Line pedals: Tux and Abigar