Artists - George Anderson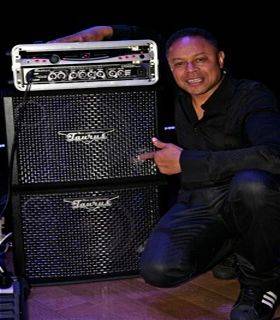 George Anderson is bass player with the legendary 80's multi-award winning group Shakatak who's tune 'Nightbirds' is a global phenomenon. Shakatak highlights : their performance in Japan's Budoken Hall, other live concerts of note have been the East meets the West Border Concert at the time of German re-unification 1989 and the open air concert in Cape Town for the Millennium Celebrations 2000 where they played in front of 250,000 people. Shakatak perform regularly in the UK, Europe and the Far East and release CD's almost annually. proving there is still an insatiable demand for the unique Shakatak sound. George is instrumental in co-writing many of Shakatak's repertoire past and present most famously 'Day by Day' featuring grammy award winner Al Jarraeu. George was also responsible for co-writing the song 'Perfect Smile' which was a smooth-jazz radio play hit in the US for Shakatak in the 90's. Along with writing for Shakatak he co-writes and produces his own albums. With these skills acquired over the years he has now composed, produced and engineered his solo albums 'Positivity.' and his latest album 'Expressions' to critical acclaim . He uses JD bass guitars and Soundtrade basses from Japan. He is proud to endorse the excellent Taurus bass gear.
"The future is bright ...The future of bass is Taurus !!"
Products used by this artist: