Artists - Kristoffer Gildenlow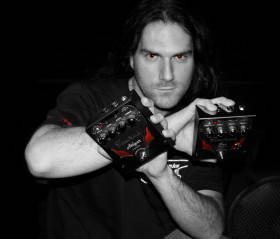 Kristoffer Gildenlow is a Swedish bassist. He started playing the bass guitar at the age of 14 and less than a year later, he was asked to join Swedish prog-metal band 'Pain of Salvation'. After recording six full albums and one DVD they have decided to go separate ways (early 2006). Kristoffer has also recorded and toured with Lana Lane (US), Erik Norlander (US), Dark Suns (D) and Rocket Scientists (US), Ian Parry (NL), Damian Wilson (UK) and done additional recordings for bands such as Arkan's Origin (BE), Arcana (S), Chirra Niva (NL), Harmony (S) and Implosion (Gr). His new band Dial released its debut album- synchronized- in May 2007. At present he is working on his solo material. More info on official Kris website and his Myspace profile.
Kristoffer Gildenlow uses Taurus Silver Line effect pedals - Abigar, Tux, Vechoor, Zebu and the preamp T-Di.
Products used by this artist: